Combine Fun And Fitness With Our Kids Martial Arts Classes
At Field Martial Arts Academy, our Kids Martial Arts classes are all about bringing the energy. We want your child to love every minute of every class and that's why we work hard to keep all of our students active, engaged, and excited.
And with that energy, our Kids Martial Arts students learn everything from vital life skills to necessary social skills to important self-defense skills. We're proud to offer the kids of Norwood a place to grow and learn and have fun!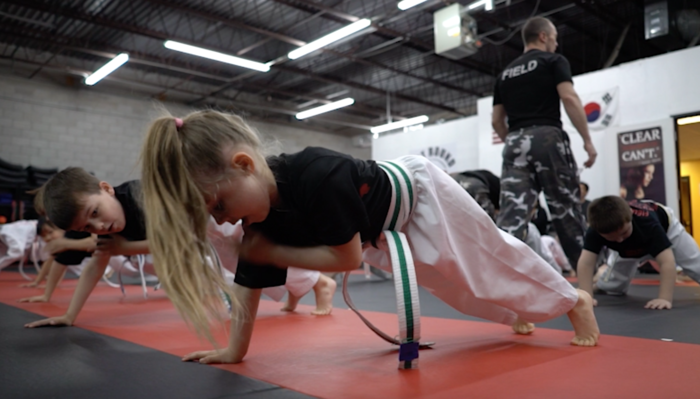 Our Kids Martial Arts Classes In Norwood Are Perfect For All Ages
So what if your child has never been to a Kids Martial Arts Class? No problem! Our trained instructors work with students on an individual basis to ensure that students are learning the proper mechanics and staying safe throughout the process.
Whether your child is an expert or a beginner, they'll be sure to enjoy:
Constant support and feedback from our coaches
Exciting instruction that keeps them challenged and motivated
Friendly classmates to share the journey with
So What Can Your Child Expect To Learn With Our Kids Martial Arts?
At Field Martial Arts Academy, we offer an easy-to-follow belt progression system that helps students set goals and work towards them. The belt progression lets even our most inexperienced students start with the very basics and build their skills in the safe and sustainable system.
And with each promotion, your child will enjoy a sense of accomplishment like never before, helping them build unwavering self-confidence.
Our Kids Martial Arts training includes:
Basic striking and blocking techniques
Drills promoting focus and attention to detail
Memorization exercises
Communication strategies
And anti-bullying measures
Why Wait? Get Started Today With The Best Kids Martial Arts Training In Norwood
Make the move today and watch your child grow before your eyes. Our Kids Martial Arts training is an exciting way to boost your child's confidence and help them develop habits of an active lifestyle.
To learn more, all you have to do is fill out the short form on your screen now. We'll be happy to answer all of your questions.